The dream of creating "Print Media Studio" was to create a professional publishing and advertising agency offering its clients comprehensive services in the field of designing, advising and its printing service.
When establishing the company, its owners contributed their own long-term experience in printing and advertising, acquired at the industry's top institutions and their ten year experience in computer graphics systems. These strong foundations help in providing our clients with an organized, comprehensive and efficient service and deliver products that meet expectations. Due to constant investments in new technology we have been able to substantially widen the range of offers we present, improve quality, shorten deadlines and lower the price of our service. Many years of action and passion, facilitated by practical knowledge and experience have resulted in establishing long-term relationships with our clients. Our clients trust in us and their satisfaction with the quality and effectiveness of our services are the reason for our pride and the motivation to work harder and elevate our standards. Our clients value our enthusiasm, integrity and our willingness to work hard thanks to which we never say the words "This cannot be done…" Furthermore, with respect to our clients, we only accept orders we are able to complete at our highest standards and within our specified time. We offer you our experience and will always advise you the best solution in order to avoid any unnecessary expenses.
We highly value and are always open to your suggestions and comments.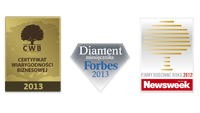 We look forward to a fruitful
cooperation with you.
Best regards
The "Print Media Studio" team